Remember how stuffy History Channel used to be when they first got started in the mid-1990s? When, they still had "The" in their name? It was "The History Channel".  I'm still not sure about the decision to drop the "The" – thinking about the loss annoys me.
Hey, I've always had a lady boner for proper article usage. Lawrence O'Donnell saying "an historical" is like porn for me.
Anyway……
History Channel in the mid-1990s: SO MUCH BLACK AND WHITE!!!!
Now, it's all about ACTION! It's all about being EPIC! And their new mini-series, Mankind: The Story of All of Us, promises to make the simple human act of breathing feel like a triumph of survival on a HARSH, BRUTAL PLANET (even the mouth breathers!).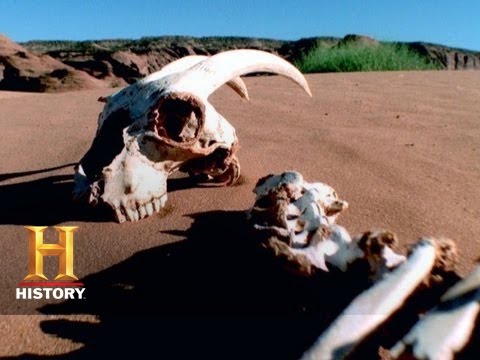 I poke fun, but I've always found this stuff to be exciting and I'm happy to see that FINALLY someone is treating human evolution as the awesomely epic thing that it is.
This week, we have a MANKIND!!!!!!! prize pack to give away. One winner will receive:
Mankind The Story of All of Us Coffee Table Book
Mankind Graphic Novel
TO ENTER:
Answer this question in the comments below:
You have a time machine (TARDIS, DeLorean, whatever you want). When do you go?
Mankind: The Story of All of Us premieres on tonight at 9/8c on History Channel.
Related Stuff: