As much as I complain about Star Wars, I still want all the Star Wars things. Except the remastered original trilogy on Blu-ray. Or DVD. Or VHS (yes, I still have a VHS player in the closet; I still have tapes, OK?).
And I want these Star Wars slippers even though I'm supposed to be a grown up. And I'm told grown ups don't do things like wear Yoda slippers and say, "Stinky, my feet are."   Or put on Darth Vader slippers and wheeze, "I find your lack of nail clippers disturbing."
But, being a grown up is overrated and we have Star Wars slippers to give away, courtesy of Bunny Slippers!
One winner will receive a pair of Star Wars slippers by Bunny Slippers, in the character of their choice: Yoda, Darth Vader, or Chewbacca.
TO ENTER:
Answer this question in the comments below:
What Star Wars character would you most want to wear on your feet and why?
(your response can include characters other than the three featured in the slippers)
Be as silly or as vindictive as you like!
Me, I'd want the Chewbacca slippers so I could chase my cats while making this noise: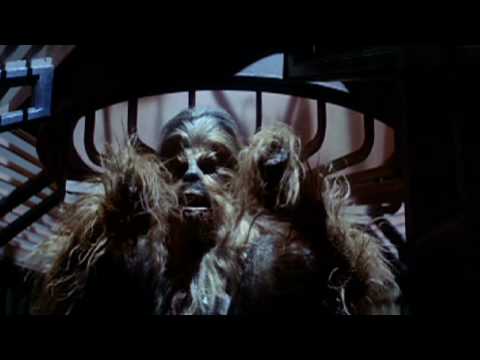 We'll draw a winner at random on Monday!
Related Stuff: