There was so much wonderful stuff in NY Fashion Week's Spring 2013 collections that it can't be contained in one post. They'll be themed.
In this one, we'll cover the following (in no particular order):
Hopelessness
Blood and guts
Waste management
Starting with Rag and Bone…..I love a good hooded dress and this one is perfect for the apocalypse. It's got a hoodie, cargo pockets, and what looks like convertible sleeves.
Rodarte lost me in 2010 when they did that line of make-up inspired by Ciudad Juarez. That flap really clouded the way I look at their collections, which I had normally loved for being so damn weird. I'm still annoyed by their cluelessness, but I've got to say that a metal mesh corset over a gown is the new $h!t:
Betsey Johnson is 70 and still sporting crimped hair while doing cartwheels and splits on her runway. Your comments about my clothes not being age appropriate are invalid.
On a side note, this was the biggest problem I had with Buffi on this season of Project Runway. Everything she did made me want to scream, "BETSEY JOHNSON!"
Come to think of it, that would be a great expletive in fashion assh0le situations! Like so:
Fashion Assh0le:  Don't you own khaki pants?
Me: Betsey Johnson! 
Fashion Assh0le:  Combat boots? And a dress?
Me: They're not combat boots; they're Docs. And by the way, BETSEY JOHNSON!
(True story: Last winter I wore a houndstooth librarian dress with hot pink tights, black OTK socks, and my Docs to professional development. A co-worker approached me an this conversation happened:
Her: Oh, my daughter wants to wear that! The dress with the tights and socks and boots!
Me: Cute! How old is she?
Her: Twelve. 
Fcuk.)
Whatever. Betsey Johnson's existence makes me feel better about wearing frothy frocks like this (with Docs and a tiara, thanks):
On the considerably less frothy side is Prabal Gurung. I love this dress because it looks like she exploded and her flesh is hanging in ribbons from her spinal column.
While watching Project Runway, I frequently poopoo the judges when they get fixated on "styling" because I'm a fashion heathen who thinks Docs and Chucks go with everything. Weirdly, Gary Graham's collection helped me figure that "styling" concept out. Here, we have a perfectly cute dress. But, the styling with dirt make-up and deep dat frier grease hair make the model look like Winona Ryder modeling for Derelicte.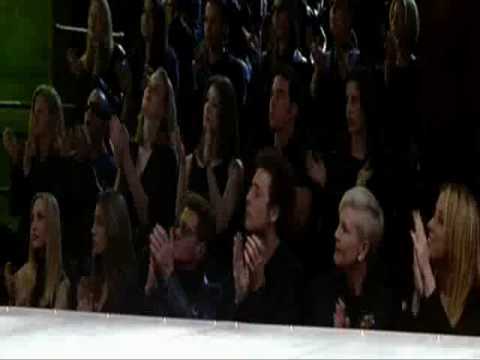 Or a fugitive from an alternate 1990s where Bush I was dictator for life. It's the haunted eyes that do it.
Continuing with the hopelessness trend is Creatures of the Wind. Very much inspired by smog and industrial runoff. Could also be an interpretation of the Industrial Revolution.
The dress from Proenza Schouler makes me think of the Pacific Garbage Patch. In a good way.
Hey! A dress made of the discarded streamers from sweet sixteen parties no one went to!  If you look closely, you can still see the tear stains…..
And a body stocking constructed of the broken champagne flutes from a thousand disappointing anniversary parties:
 Up next: Buck Rogers. 
Related Stuff: