I've been endlessly frustrated by Netflix and Hulu Plus since joining last year. New movies are seldom added and, often, those newly added movies are years old. And I mean years. For example, not too long ago, Mr. Deeds was on the Newly Added list.
But every once in a while, if I dig deep enough, I'm rewarded. Usually by the Foreign and Independent sections.
Santos was such a reward.
Admittedly, I didn't read the summary very closely and wound up getting something much different than expected. It was about thirty minutes before I accepted that there would be no luchador in this movie.
Yes, I know the luchador is Santo, not Santos. In my defense, I'd just gotten back from a weekend in Ocean City, MD and was exhausted. I have no idea how my girlfriends can go to bed at 4AM and be up and about at 9AM without dragging. I'm pretty sure at least one of them was created in a lab.
Santos is a Chilean love letter to all the stuff nerds love:
Superheroes
Star Wars
Dreaming of having our own comics published
Fantasizing that we're actually superheroes from a parallel universe (is it just me?)
Salvador Santos grew up obsessing over a superhero called Gigaman and making comics with characters he created: Anthropomosco and Nino Balo. As an adult, his childhood friend, Arturo, invests in Salvador's project, making Anthropomosco y Nino Balo a comic book reality.
Then disaster strikes. And a comet. And the Doubleverse. And a love triangle. And a poop addicted, anthropomorphic fly guy.
Not to mention the end of the world.
What I love about Santos is that it keeps throwing stuff at the viewer. It never lets up and, as such, never has the lagging middle that many movies have. There's so much going on, but there's an internal logic to it that makes the absurdities make sense.
The other thing I love about Santos is that it embraces the absurdities. This movie isn't taking itself the least bit seriously; it knows what it is and goes for it.
While it's far from a perfect movie and certainly isn't a simple movie, Santos is a lot of fun.
BTW, if anyone can find the song "Yo Soy Gigaman" anywhere online, I'll totally be your best friend.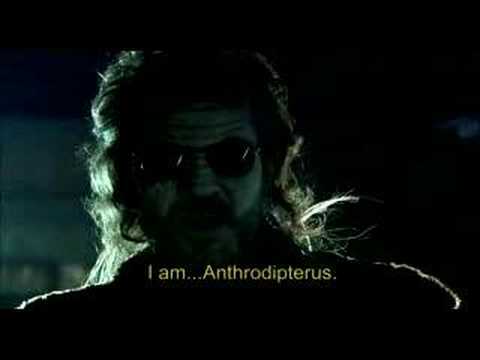 Related Stuff: