Hello Friday Night Death Slot. How are you? In the great tradition of moving a show to Fridays while it runs out its final season/s, Chuck, you are in excellent company. The same fate befell shows including "The A-Team", "Knight Rider" and of course, "Matlock".
Some of you will cry out, "That's not when 'Matlock' ended!", and to you I say, "Shut Up, Gramma". Yes, it was on ABC for three more seasons. No one cares but you. Eat another Werther's Originals.
So where are we now? Running down 14 more episodes of sameness. I feel like the writers are attempting to build up to something here but I just don't care. Yes, Morgan is the Intersect now. Yes, it appears to be making him a jerk. No, nothing will actually happen.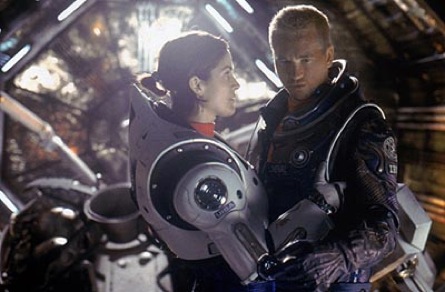 Casey still has all his limbs. This is disappointing.
No one is reading these reviews, I see.
I'm not sure how I feel about Carrie-Ann Moss, best known for her role in Fido, as the rival spy bitch. I at least BELIEVE that she can kick some ass. But being as CAM is best known for her role in Red Planet, I feel like the relationship they are revealing with Casey is very trite. And I know that CAM is best known for her role in Disturbia, but I can't help but feel like this is going to go nowhere.
OR.
Maybe she's the one who cuts of Casey's arm! I mean, she IS best known for her role in Love Hurts. It only makes sense.
At this point, Chuck is like eating a can of air. Sure, it's something to DO, but I'm not getting much out of it.
Related Stuff: